Alcohol Spray (Ethyl) 99%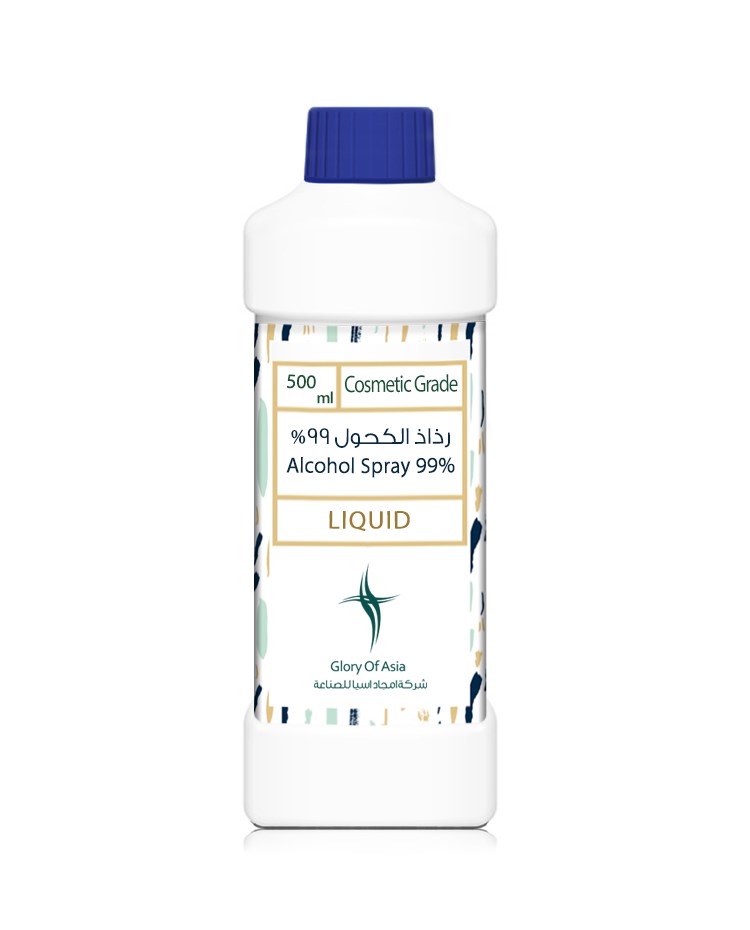 Alcohol Spray (Ethyl) 99%
Alcohol Spray with 99% Concentration is a potent sanitizer and skincare ingredient that offers versatile applications for maintaining cleanliness and enhancing skincare and soap formulations.
The displayed images are for illustrative purposes and may vary from the actual product
---
GTIN: 6285817017463

Description: 
Alcohol Spray with 99% Concentration is a versatile solution that serves as an effective sanitizer and ingredient for skincare and soap formulations. With its high concentration of alcohol, this spray provides reliable disinfection while offering benefits for skincare and soap base applications. Whether you need to sanitize surfaces or incorporate it into your skincare or soap products, our Alcohol Spray with 99% Concentration is a go-to choice for cleanliness and hygiene.
Benefits:
Provides powerful sanitization and disinfection

Suitable for cleansing and purifying the skin

Can be used as an ingredient in skincare and soap products

Helps to maintain cleanliness and hygiene

Quick-drying formula leaves no residue
Usage: Alcohol Spray 99% can be used for both surface disinfection and skincare/soap formulation purposes. For surface disinfection, spray an adequate amount onto the surface and allow it to sit for a few seconds before wiping off or letting it air dry.
Recommended Usage (in skincare products and soap base):
Skincare products: 1-5% in formulations such as toners, cleansers, and hand sanitizers.

Soap base: 2-10% depending on desired strength and formulation requirements.
Solubility: Alcohol Spray 99% is highly soluble in water and can be easily incorporated into water-based skincare formulations and soap bases. It can also be blended with other compatible ingredients to create desired formulations.
Applications:
Surface disinfection and sanitization

Skincare products such as toners, cleansers, and hand sanitizers

Soap formulations including liquid soaps, bar soaps, and hand washes.
Storage: Store the Alcohol Spray 99% in a cool, well-ventilated area away from direct sunlight and sources of ignition. Keep the container tightly closed when not in use. Avoid exposing it to extreme temperatures. Proper storage conditions will ensure the longevity and effectiveness of the product.
Precaution:

Ethanol is highly flammable and should not be used near open flames.
Ethanol inhalation can cause coughing or headaches, according to the CDC.
Country of origin: China
Country of packing: Saudi Arabia
Your Dynamic Snippet will be displayed here... This message is displayed because you did not provided both a filter and a template to use.

إنضم إلى ورشة العمل
انضم إلينا في ورشة العمل المميزة لتتعلّم كيفية صنع منتجات التجميل الخاصة بك واكتساب مهارات جديدة.

ستتلقى دعمًا من خبراءنا المتخصصين الذين سيوجهونك خلال عملية تصنيع المنتجات. و ستتعلم أفضل الطرق والخطوات لإنتاج منتجات تجميل تعزز العناية بالبشرة وتمنحك الانتعاش والحيوية

لا تدع هذه الفرصة الرائعة تفوتك لاكتساب مهارة جديدة تحسن من روتين العناية ببشرتك

إشترك الآن واتخذ الخطوة الأولى نحو الحصول على بشرة أكثر صحة وإشراقًا