Aloe Vera Gel Freeze Dried Powder 100X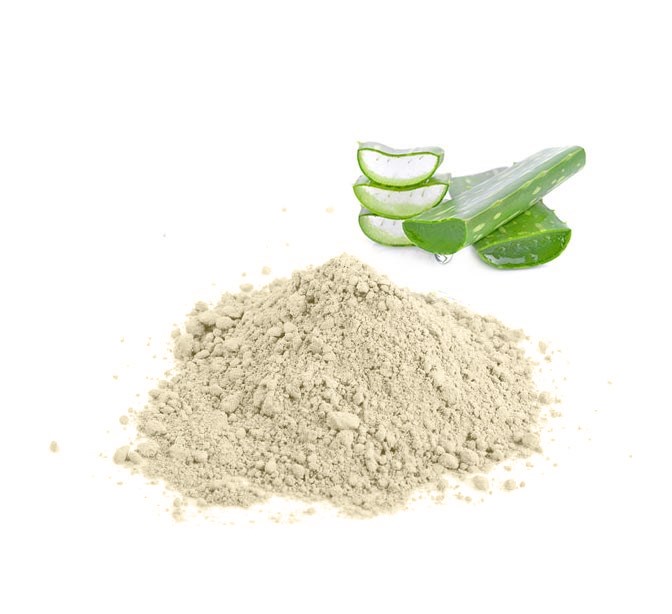 Aloe Vera Gel Freeze Dried Powder 100X
Aloe Vera Gel Freeze Dried Powder, obtained from the inner fillet of the aloe vera plant (Aloe barbadensis). It offers the benefits of aloe vera in a convenient and potent powder form, making it suitable for various skincare applications.
The displayed images are for illustrative purposes and may vary from the actual product
---
GTIN: 6285817000588

Description:
Aloe Vera Gel Freeze Dried Powder 100x is a highly concentrated and convenient form of aloe vera gel obtained from the inner fillet of the aloe vera plant (Aloe barbadensis). Through a specialized freeze-drying process, the gel is transformed into a fine powder while retaining the beneficial properties of aloe vera. This potent powder offers a wide range of benefits and is commonly used in skincare products.
Aloe vera is renowned for its soothing and hydrating properties, making it a popular ingredient in skincare. The freeze drying process preserves the natural goodness of aloe vera, ensuring that the powder contains a high concentration of its beneficial compounds.
Benefits:
Soothes and hydrates the skin

Helps reduce inflammation and redness

Provides a cooling effect, offering relief of sunburnes

Moisturizes and nourishes dry or damaged skin

Contains antioxidants that help protect the skin from free radicals and environmental damage

Promotes a more even complexion and reduces the appearance of blemishes

Supports the skin's natural collagen production, improving elasticity and firmness

Helps calm and soothe sensitive or acne-prone skin

Possesses antimicrobial properties, aiding in the prevention of skin infections
Usage: 
Aloe Vera Gel Freeze Dried Powder 100x can be used topically in skincare formulations. It can be incorporated into various cosmetic products to enhance their soothing and moisturizing properties. The usage will depend on the specific product and the desired concentration.
Recommended Usage: 
 1 - 3%  For skincare products, it is recommended to follow the manufacturer's guidelines for the appropriate usage and concentration of Aloe Vera Gel Freeze Dried Powder 100x. It is typically used in smaller quantities due to its high concentration. Diluting the powder with a suitable carrier or base is necessary before adding it to formulations.
Solubility:
 Aloe Vera Gel Freeze Dried Powder 100x is soluble in water and other aqueous solutions. It can be easily incorporated into water-based skincare formulations, such as creams, lotions, serums, and masks. It is important to properly dissolve the powder to ensure even distribution in the final product.
Applications:
Skincare products: moisturizers, creams, lotions, serums, gels, masks

After-sun products: soothing gels, balms

Acne treatments: spot treatments, cleansers

Anti-aging products: firming creams, serums

Sensitive skin products: calming lotions, soothing masks
Storage:
 To maintain the quality and effectiveness of Aloe Vera Gel Freeze Dried Powder 100x, it should be stored in a cool, dry place, away from direct sunlight and moisture. Keeping the container tightly sealed helps prevent moisture absorption and maintains the powder's potency. Proper storage practices ensure a longer shelf life for the product.
Solubility: Soluble in water

pH Level: Above pH 3 and no greater than pH 8.5-9.
Country of origin: China
Country of packing: KSA
Your Dynamic Snippet will be displayed here... This message is displayed because you did not provided both a filter and a template to use.

إنضم إلى ورشة العمل
انضم إلينا في ورشة العمل المميزة لتتعلّم كيفية صنع منتجات التجميل الخاصة بك واكتساب مهارات جديدة.

ستتلقى دعمًا من خبراءنا المتخصصين الذين سيوجهونك خلال عملية تصنيع المنتجات. و ستتعلم أفضل الطرق والخطوات لإنتاج منتجات تجميل تعزز العناية بالبشرة وتمنحك الانتعاش والحيوية

لا تدع هذه الفرصة الرائعة تفوتك لاكتساب مهارة جديدة تحسن من روتين العناية ببشرتك

إشترك الآن واتخذ الخطوة الأولى نحو الحصول على بشرة أكثر صحة وإشراقًا