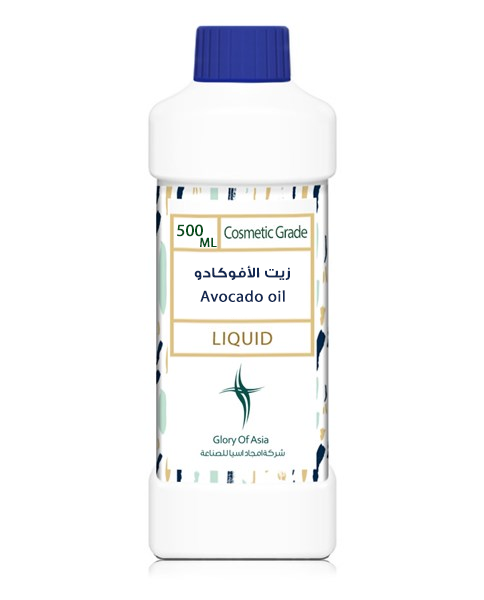 Avocado oil
Avocado oil concentrate is an essential oil renowned for promoting healthy, radiant skin. This nutrient-rich oil deeply moisturizes and nourishes the skin, resulting in a youthful and luminous appearance. Its potent antioxidant properties contribute to its exceptional benefits.
The displayed images are for illustrative purposes and may vary from the actual product
---
GTIN: 6285817023877

Description:
Avocado oil concentrate is a natural ingredient extracted from avocado fruit. It stands out for its remarkable ability to moisturize and nourish both the skin and hair. With a high concentration of essential fatty acids and beneficial vitamins like E, C, and K, it enhances skin health while safeguarding it against damage caused by free radicals.
Benefits:
Intense Moisturization: Avocado oil, abundant in healthy fats, vitamins, and antioxidants, effectively hydrates dry and irritated skin.
Reduce Wrinkles and Aging: The compounds found in avocado oil stimulate collagen production, a protein that preserves skin elasticity, diminishes the appearance of wrinkles and fine lines. Additionally, vitamin E protects the skin from environmental damage, reducing premature signs of aging.
Soothes Irritated Skin: With its anti-inflammatory and soothing properties, avocado oil is ideal for calming sensitive and irritated skin.
Enhances Hair Health: Packed with vitamins and fatty acids, avocado oil nourishes the scalp, promoting overall hair health.
Usage:
Avocado oil can be applied directly to the skin or blended into various skincare products. It is commonly found in creams, lotions, serums, and hair care formulations.
Recommended Usage:
There is no fixed usage ratio for avocado oil in cosmetic products, as the appropriate amount depends on the specific product and its intended purpose.
Solubility:
Avocado oil is insoluble in water but dissolves readily in other oils.
Applications:
Avocado oil finds application in a diverse range of skincare and beauty products, including:
Facial moisturizers and serums
Body lotions and creams
Exfoliating treatments
Hair oils
Lip balms
Storage:
To preserve the quality and efficacy of avocado oil, store it in a cool, dark place away from direct sunlight. Ensure the container is tightly sealed to prevent oxidation.
Extraction Method: First cold-pressed
Country of Origin: Turkey
Packaging Country:
Saudi Arabia
Your Dynamic Snippet will be displayed here... This message is displayed because you did not provided both a filter and a template to use.

إنضم إلى ورشة العمل
انضم إلينا في ورشة العمل المميزة لتتعلّم كيفية صنع منتجات التجميل الخاصة بك واكتساب مهارات جديدة.

ستتلقى دعمًا من خبراءنا المتخصصين الذين سيوجهونك خلال عملية تصنيع المنتجات. و ستتعلم أفضل الطرق والخطوات لإنتاج منتجات تجميل تعزز العناية بالبشرة وتمنحك الانتعاش والحيوية

لا تدع هذه الفرصة الرائعة تفوتك لاكتساب مهارة جديدة تحسن من روتين العناية ببشرتك

إشترك الآن واتخذ الخطوة الأولى نحو الحصول على بشرة أكثر صحة وإشراقًا