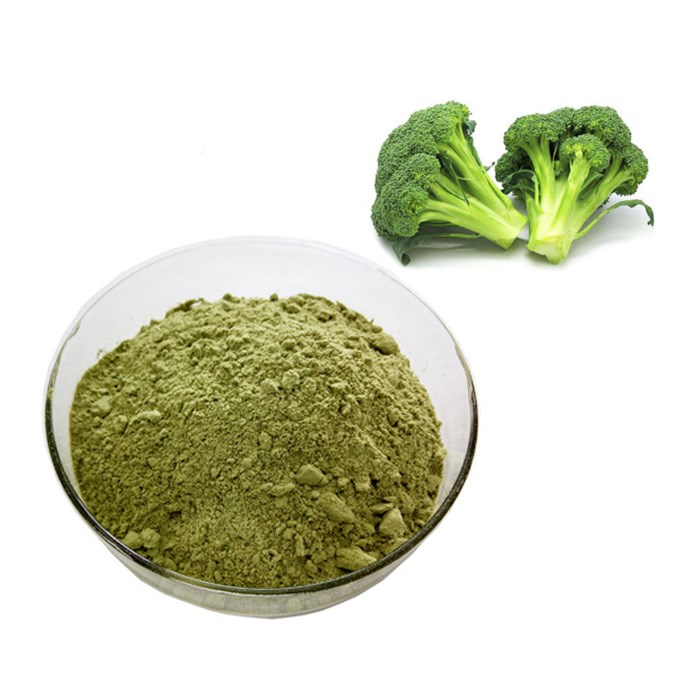 Broccoli Extract Powder
Broccoli Extract Powder is a nutrient-rich ingredient derived from broccoli that provides antioxidant and nourishing properties for the skin.
The displayed images are for illustrative purposes and may vary from the actual product
---
Internal Reference: BRC-2271
GTIN: 6285817002087

Description: 

Broccoli Extract Powder is a natural ingredient derived from broccoli, a cruciferous vegetable known for its nutritional value and health benefits. It is commonly used in skincare and beauty products due to its rich content of vitamins, minerals, and antioxidants. Broccoli extract powder offers various benefits for the skin and can be utilized in a wide range of skincare formulations. 
Benefits:
Antioxidant protection: Broccoli extract powder is abundant in antioxidants, such as vitamins C and E, which help combat free radicals and protect the skin against oxidative stress and damage caused by environmental factors.

Skin nourishment: The extract contains essential vitamins, minerals, and phytochemicals that provide nourishment to the skin, promoting a healthy and radiant complexion.

Anti-inflammatory effects: Broccoli extract possesses anti-inflammatory properties, which can help soothe and calm the skin, reducing redness and irritation.

Brightening and even skin tone: The extract's natural compounds contribute to a brighter and more even skin tone by minimizing the appearance of dark spots, hyperpigmentation, and discoloration.

Collagen synthesis: Broccoli extract supports collagen synthesis, promoting skin elasticity and firmness, resulting in a more youthful appearance.
Usage: Broccoli Extract Powder can be incorporated into various skincare products, including creams, lotions, serums, masks, and facial oils. It is typically added during the formulation process to harness its beneficial properties.
Recommended Usage:
1-10% , but usage of Broccoli Extract Powder may vary depending on the desired effect and specific product formulation.
Solubility: Broccoli Extract Powder is soluble in water and can be easily incorporated into aqueous-based skincare formulations. It may require appropriate solubilizers or emulsifiers to enhance its solubility in oil-based products.
Applications:
Facial creams and lotions

Serums and essences

Face masks and treatments

Anti-aging formulations

Brightening products

Skincare products targeting uneven skin tone and hyperpigmentation
Storage: To maintain the quality and stability of Broccoli Extract Powder, store it in a cool, dry place away from direct sunlight. Ensure the container is tightly sealed to prevent moisture exposure.
Country of origin: China
Country of packing: Saudi Arabia
Your Dynamic Snippet will be displayed here... This message is displayed because you did not provided both a filter and a template to use.

إنضم إلى ورشة العمل
انضم إلينا في ورشة العمل المميزة لتتعلّم كيفية صنع منتجات التجميل الخاصة بك واكتساب مهارات جديدة.

ستتلقى دعمًا من خبراءنا المتخصصين الذين سيوجهونك خلال عملية تصنيع المنتجات. و ستتعلم أفضل الطرق والخطوات لإنتاج منتجات تجميل تعزز العناية بالبشرة وتمنحك الانتعاش والحيوية

لا تدع هذه الفرصة الرائعة تفوتك لاكتساب مهارة جديدة تحسن من روتين العناية ببشرتك

إشترك الآن واتخذ الخطوة الأولى نحو الحصول على بشرة أكثر صحة وإشراقًا