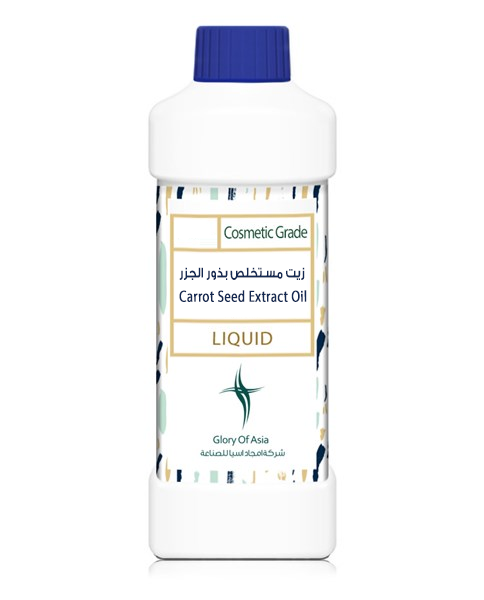 Carrot Seed Extract Oil
This oil is unique for its nourishing and moisturizing properties that promote the health and beauty of your skin and hair. Carrot seed oil contains a high concentration of vitamins and antioxidants that improve skin elasticity and reduce the appearance of wrinkles and fine lines
The displayed images are for illustrative purposes and may vary from the actual product
---
GTIN: 6285817023891

Description:
Carrot seed oil contains a high concentration of vitamins and antioxidants that improve your skin appearance. It helps moisturize dry skin and soothe sensitive skin, making it an ideal product for daily care. As for hair, carrot seed oil promotes hair growth and gives it shine and strength. It also helps combat hair damage and split ends. Using carrot seed oil will provide noticeable results and enhance your natural beauty in a healthy and effective way.
Benefits:
Skin hydration: Carrot seed oil contains nourishing compounds that help moisturize the skin and give it a healthy appearance. The oil locks in moisture and strengthens the skin's natural protective barrier.
Anti-aging: The oil contains antioxidants that help combat free radicals and reduce the appearance of aging signs such as wrinkles and fine lines. It also enhances collagen production, promoting skin elasticity.
Soothing irritated skin: Carrot seed oil is known for its soothing and anti-inflammatory properties. It can be used to alleviate redness and irritation associated with allergies or skin conditions like eczema and acne.
Balancing natural oil production: The oil regulates the secretion of natural oils on the skin, giving it a healthier appearance and reducing problems associated with oily or dry skin.
Hair strengthening: Carrot seed oil has the ability to strengthen the scalp and improve hair health. It can be used to strengthen damaged hair, enhance growth, and add shine and vitality to the hair.
Reducing the appearance of dark spots: The oil helps minimize the appearance of dark spots and lightens the skin tone. It can be used to even out skin tone and improve overall appearance.


Recommended Usage:
Carrot seed oil can be used for general skincare and hair care as a carrier oil or as an ingredient in beauty products. The usage ratio may vary depending on individual needs, skin type, and hair type.
Solubility:
Concentrated carrot seed oil is not soluble in water, but it blends well with other oils, lotions, and carrier oils.
Applications:
Skincare products: Enhances moisturizing and soothing properties.
Hair care products: Enhances softness, manageability, and styling.



Storage:
To maintain the quality of concentrated carrot seed oil, store it in a cool, dry place away from direct sunlight. Make sure to tightly close the bottle after each use. Proper storage will help extend the oil's shelf life.
Extraction Method: Cold-pressed.
Country of Origin: Pakistan
Packaging Country: Saudi Arabia
Your Dynamic Snippet will be displayed here... This message is displayed because you did not provided both a filter and a template to use.

إنضم إلى ورشة العمل
انضم إلينا في ورشة العمل المميزة لتتعلّم كيفية صنع منتجات التجميل الخاصة بك واكتساب مهارات جديدة.

ستتلقى دعمًا من خبراءنا المتخصصين الذين سيوجهونك خلال عملية تصنيع المنتجات. و ستتعلم أفضل الطرق والخطوات لإنتاج منتجات تجميل تعزز العناية بالبشرة وتمنحك الانتعاش والحيوية

لا تدع هذه الفرصة الرائعة تفوتك لاكتساب مهارة جديدة تحسن من روتين العناية ببشرتك

إشترك الآن واتخذ الخطوة الأولى نحو الحصول على بشرة أكثر صحة وإشراقًا