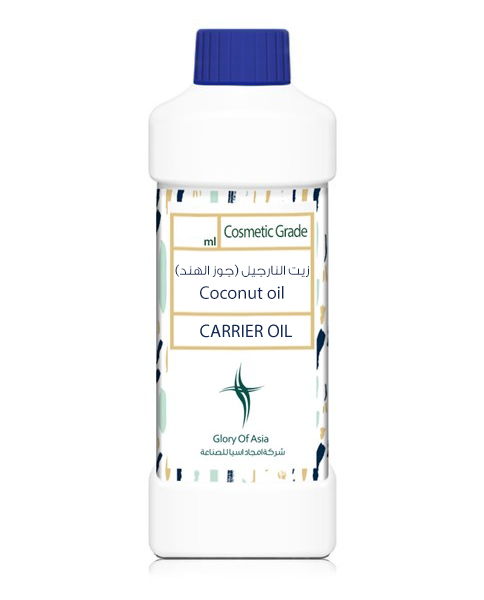 Coconut Oil (India)
Coconut oil is a versatile and popular oil derived from the kernel or meat of mature coconuts. It is known for its pleasant aroma, smooth texture, and various benefits for skincare. The coconut oil produced in India offers exceptional quality and purity.
The displayed images are for illustrative purposes and may vary from the actual product
---
GTIN: 6285817021576

Description:

One of the key advantages of coconut oil is its ability to soothe and calm irritated or sensitive skin. Its natural anti-inflammatory properties can help reduce redness, inflammation, and itching caused by various skin conditions. Coconut oil can provide relief for conditions such as eczema, psoriasis, and dermatitis.
With its high concentration of beneficial fatty acids, coconut oil supports skin elasticity and can help minimize the appearance of fine lines and wrinkles. It promotes a more youthful and plump complexion, giving the skin a smoother and firmer appearance. Additionally, the antioxidants present in coconut oil protect the skin from damage caused by free radicals, helping to prevent premature aging.
Coconut oil is suitable for all skin types, including sensitive skin, as it is gentle and non-irritating. It can be used as a standalone moisturizer, applied directly to the skin, or incorporated into various skincare products such as moisturizers, serums, cleansers, and body lotions.
Benefits:
Moisturizes and nourishes the skin

Helps soothe and calm dry or irritated skin

Forms a protective barrier on the skin, preventing moisture loss

Supports skin elasticity and promotes a youthful appearance

Helps reduce the appearance of fine lines and wrinkles

Provides antioxidant protection against free radicals

Helps maintain a healthy and balanced complexion

Can be used as a natural makeup remover

Supports scalp health and helps condition the hair

Suitable for all skin types, including sensitive skin
Usage:
 Coconut oil can be used directly on the skin or as an ingredient in various skincare products. It is a versatile oil that can be applied to the face, body, hair, and nails for multiple benefits.
Recommended Usage: 
The recommended usage of coconut oil in skincare products may vary depending on the specific product and desired effects. It is advisable to follow the manufacturer's instructions for optimal usage and dilution, especially when combining it with other ingredients.
Solubility:
Coconut oil is not water-soluble but can be easily blended with other oils, butters, or ingredients to create custom formulations. It melts upon contact with the skin, allowing for easy absorption.
Applications:
Facial skincare: moisturizers, serums, cleansers, facial oils

Body skincare: lotions, body butters, massage oils

Lip care: lip balms, lip scrubs

Hair care: hair oils, conditioners, hair masks

Nail care: cuticle oils, nail treatments

Makeup remover: gently removes makeup, including waterproof products

Baby skincare: gentle moisturizers for delicate skin

DIY skincare formulations: as a base oil or ingredient in homemade products
Storage: 
To ensure the freshness and quality of coconut oil, it should be stored in a cool, dry place, away from direct sunlight and heat. It solidifies at temperatures below 76°F (24°C) but will liquefy when exposed to higher temperatures. Proper storage practices help maintain its texture and extend its shelf life.
HLB: 8
Extraction method: Cold-press
Country of origin: India
Country of packing: Saudi Arabia
Your Dynamic Snippet will be displayed here... This message is displayed because you did not provided both a filter and a template to use.

إنضم إلى ورشة العمل
انضم إلينا في ورشة العمل المميزة لتتعلّم كيفية صنع منتجات التجميل الخاصة بك واكتساب مهارات جديدة.

ستتلقى دعمًا من خبراءنا المتخصصين الذين سيوجهونك خلال عملية تصنيع المنتجات. و ستتعلم أفضل الطرق والخطوات لإنتاج منتجات تجميل تعزز العناية بالبشرة وتمنحك الانتعاش والحيوية

لا تدع هذه الفرصة الرائعة تفوتك لاكتساب مهارة جديدة تحسن من روتين العناية ببشرتك

إشترك الآن واتخذ الخطوة الأولى نحو الحصول على بشرة أكثر صحة وإشراقًا