Glycerin Oil (Vegetable) 99.5%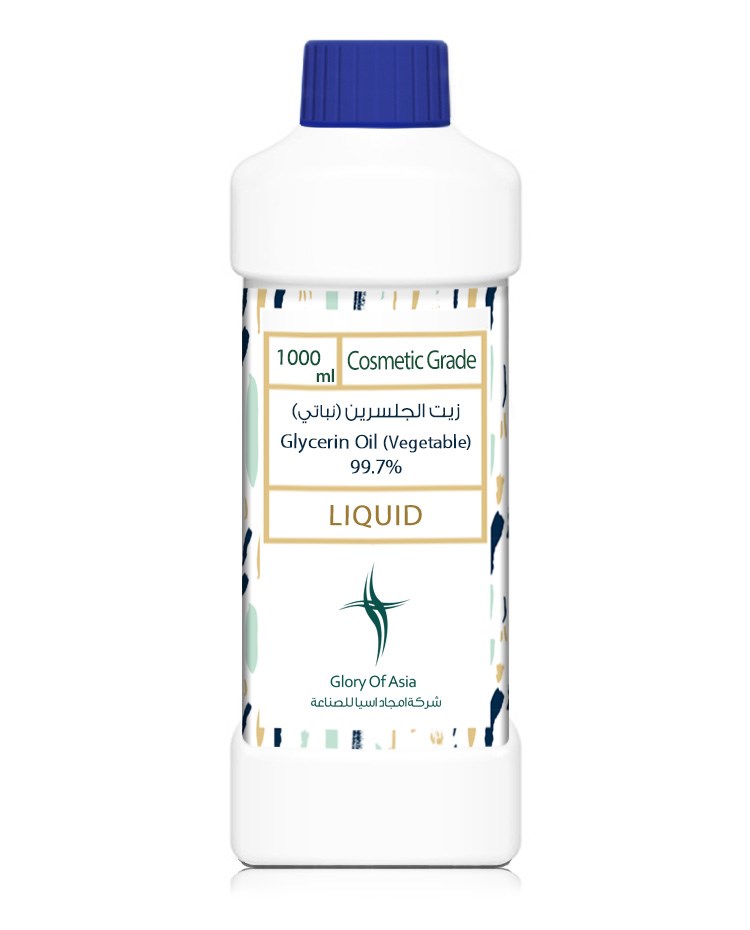 Glycerin Oil (Vegetable) 99.5%
Glycerine is used as an ingredient and humectant for cosmetics, creams and lotions, oral care, toothpaste, mouthwash, and bar and liquid soap. It is a vegetable-based.
The displayed images are for illustrative purposes and may vary from the actual product
---
GTIN: 6285817004487

Description: 
Glycerin Oil (Vegetable) 99.7% is a transparent and odorless liquid derived from vegetable sources, typically from vegetable oils like palm, coconut, or soybean oil. It is a natural humectant, meaning it attracts and retains moisture, making it an excellent ingredient for skincare and beauty products.
Benefits:
Moisturizes and hydrates the skin: Glycerin Oil helps to attract and lock in moisture, keeping the skin hydrated and preventing dryness.

Enhances skin barrier function: Glycerin Oil strengthens the skin's natural barrier, reducing water loss and improving overall skin health.

Soothes and calms the skin: It has soothing properties that can help alleviate irritation and redness, making it suitable for sensitive or reactive skin.

Improves the appearance of fine lines and wrinkles: By maintaining optimal hydration levels, Glycerin Oil can help reduce the appearance of fine lines and wrinkles, giving the skin a smoother and more youthful look.
Usage:
Add as is to the water phase of the formulas, typical use level 2-5% in emulsions. Also Glycerin Oil (Vegetable) 99.7% can be used directly on the skin or as an ingredient in various skincare and beauty formulations. It is suitable for all skin types, including sensitive skin.
Recommended Usage:
Moisturizer: Apply a small amount of Glycerin Oil to cleansed skin and gently massage until fully absorbed. It can be used on its own or mixed with other oils or creams.

Facial Serum: Incorporate Glycerin Oil into your favorite facial serum to enhance its moisturizing and hydrating properties.

Body Lotion: Add Glycerin Oil to your preferred body lotion or cream to boost its moisturizing effects and improve skin texture.

Hair Conditioner: Mix Glycerin Oil with your conditioner and apply it to damp hair for added hydration and manageability.
Solubility: Glycerin Oil is water-soluble.
Applications:
Skincare Products: moisturizers, serums, lotions, creams, masks, cleansers

Hair Care Products: conditioners, hair masks

Soapmaking: Glycerin Oil can be used as an ingredient in soapmaking to add moisturizing and hydrating properties to the final product.

Candlemaking (optional): Glycerin Oil can be added to candle wax formulations to improve scent throw and enhance the overall quality of the candle.
Storage: To preserve the quality of Glycerin Oil (Vegetable) 99.7%, store it in a cool, dry place away from direct sunlight. Ensure that the bottle is tightly sealed to prevent contamination or evaporation. Following the correct storage methods enhances the effectiveness of the product and extends its shelf life.
Country of origin: Malaysia
Country of packing: Saudi Arabia
Your Dynamic Snippet will be displayed here... This message is displayed because you did not provided both a filter and a template to use.

إنضم إلى ورشة العمل
انضم إلينا في ورشة العمل المميزة لتتعلّم كيفية صنع منتجات التجميل الخاصة بك واكتساب مهارات جديدة.

ستتلقى دعمًا من خبراءنا المتخصصين الذين سيوجهونك خلال عملية تصنيع المنتجات. و ستتعلم أفضل الطرق والخطوات لإنتاج منتجات تجميل تعزز العناية بالبشرة وتمنحك الانتعاش والحيوية

لا تدع هذه الفرصة الرائعة تفوتك لاكتساب مهارة جديدة تحسن من روتين العناية ببشرتك

إشترك الآن واتخذ الخطوة الأولى نحو الحصول على بشرة أكثر صحة وإشراقًا