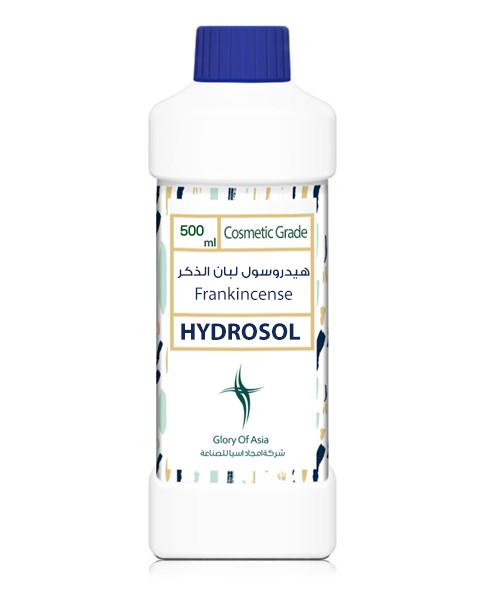 Frankincense Hydrosol
Frankincense hydrosol is a gentle and rejuvenating skincare ingredient derived from frankincense resin, offering balancing and soothing properties.
The displayed images are for illustrative purposes and may vary from the actual product
---
Internal Reference: HF-131220
GTIN: 6285817021712

Description:
 Frankincense hydrosol is a natural and versatile skincare ingredient derived from the steam distillation of frankincense resin. It contains the water-soluble components of the resin, offering a gentle and soothing solution for various skincare needs. With its balancing and rejuvenating properties, frankincense hydrosol is a popular choice for those seeking a natural and effective skincare solution.
Benefits:
Soothes and calms the skin: Frankincense hydrosol has soothing properties that can help reduce redness, irritation, and inflammation, making it suitable for sensitive and reactive skin.

Hydrates and refreshes: It provide a burst of hydration to the skin, leaving it feeling refreshed and revitalized.

Balances skin tone: Frankincense hydrosol helps even out the skin tone and promotes a more balanced complexion.

Supports skin elasticity: It can help improve the appearance of fine lines and wrinkles, promoting a more youthful and plump-looking skin.

Antioxidant properties: Frankincense hydrosol contains antioxidants that help protect the skin from environmental damage and premature aging.
Usage: Frankincense hydrosol can be used directly on the skin as a toner, facial mist, or refreshing spray. It can also be incorporated into homemade skincare formulations such as creams, lotions, serums, and masks.
Recommended Usage in Skincare Products:
Facial toner: Use as a refreshing toner by applying it to a cotton pad and gently wiping it over the face after cleansing.

Facial mist: Transfer the hydrosol to a spray bottle and mist it onto the face throughout the day for a hydrating and revitalizing boost.

Skincare formulations: Incorporate frankincense hydrosol into creams, lotions, serums, or masks at a recommended usage level of 5-10% to enjoy its soothing and rejuvenating benefits.
Solubility: Frankincense hydrosol is water-soluble, making it easy to incorporate into various water-based skincare formulations.
Applications:
Facial toner

Facial mist

Creams

Lotions

Serums

Masks
Storage: To preserve the quality and efficacy of frankincense hydrosol, it should be stored in a cool, dry place away from direct sunlight. Refrigeration can help extend its shelf life.
Extraction Method:  Steam distillation

Country of origin: India
Country of packing: Saudia Arabia
Your Dynamic Snippet will be displayed here... This message is displayed because you did not provided both a filter and a template to use.

إنضم إلى ورشة العمل
انضم إلينا في ورشة العمل المميزة لتتعلّم كيفية صنع منتجات التجميل الخاصة بك واكتساب مهارات جديدة.

ستتلقى دعمًا من خبراءنا المتخصصين الذين سيوجهونك خلال عملية تصنيع المنتجات. و ستتعلم أفضل الطرق والخطوات لإنتاج منتجات تجميل تعزز العناية بالبشرة وتمنحك الانتعاش والحيوية

لا تدع هذه الفرصة الرائعة تفوتك لاكتساب مهارة جديدة تحسن من روتين العناية ببشرتك

إشترك الآن واتخذ الخطوة الأولى نحو الحصول على بشرة أكثر صحة وإشراقًا