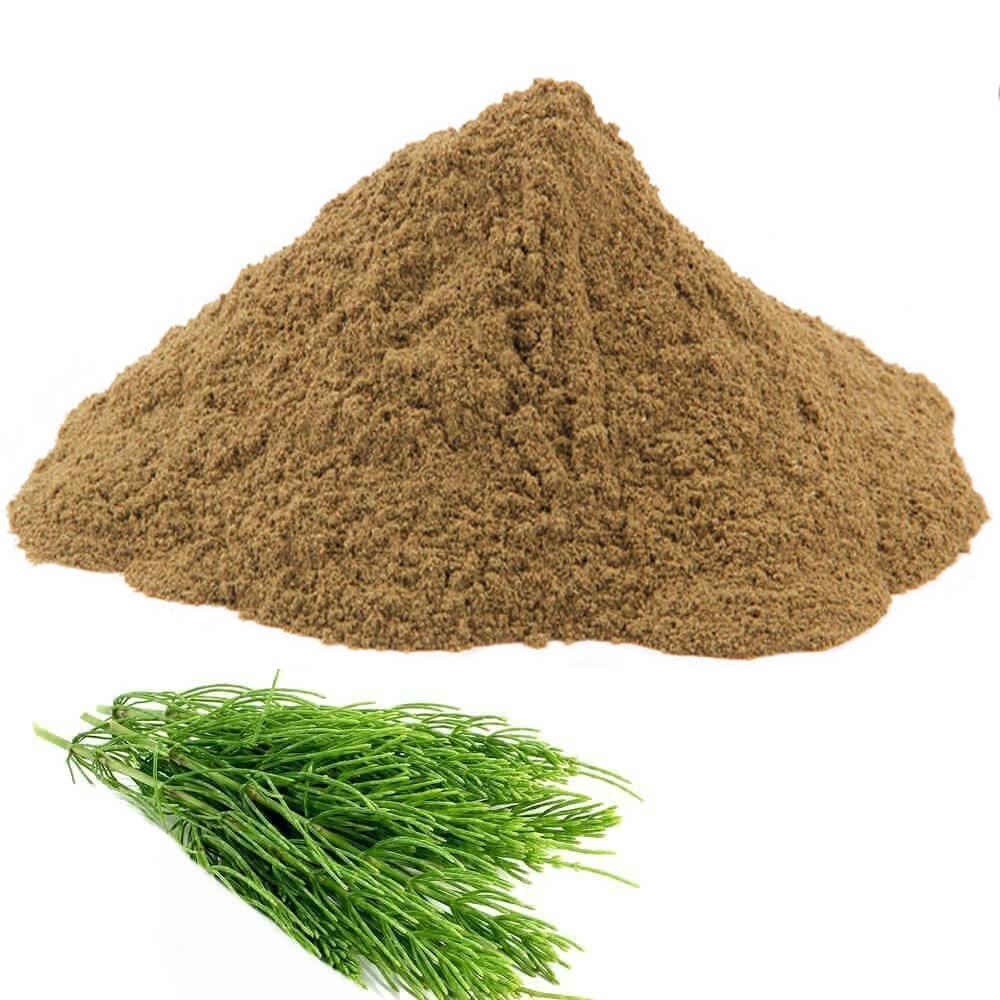 Horsetail Extract
Horsetail Extract powder is indeed an ideal solution for various hair problems, including hair loss, damaged hair, and thin and weak hair. You can rely on it to achieve healthy, strong, and beautiful hair.
The displayed images are for illustrative purposes and may vary from the actual product
---
Internal Reference: HT-720231
GTIN: 6285817023761

Description:
Horsetail Extract is considered one of the most important nourishing and repairing ingredients for damaged hair. This powder enhances the strength, flexibility, and shine of your hair while improving its structure and stimulating healthy hair growth. What also sets this powder apart is its ease of use. You can simply add the powder to your shampoo or conditioner and incorporate it into your daily hair care routine. Thanks to its concentrated formula, a small amount is sufficient to achieve amazing results. Get ready to enjoy strong, healthy, and vibrant hair with Horse Tail Extract powder. Make it a part of your beauty routine.
Benefits:
Hair Growth Enhancement: Horse Tail Extract powder is a rich source of proteins, vitamins, and essential minerals that promote hair growth and strengthen it.
Hair Strengthening: Horse Tail Extract powder contains keratin, a natural protein that is a major component of hair. It can help enhance hair strength and increase its elasticity, reducing hair loss and breakage.
Improved Shine and Appearance: Horse Tail Extract powder is a natural moisturizer that helps improve the overall shine and appearance of hair. It moisturizes and strengthens dry hair, making it look healthy and attractive.
Reduced Hair Frizz: Horse Tail Extract powder works to smooth the hair and reduce frizz. It can contribute to improving hair structure and reducing tangling.
Repair of Damaged Hair: With its protein-rich and nourishing properties, Horse Tail Extract powder can help repair and strengthen damaged hair. It can be used to eliminate split ends and improve the condition of weak and damaged hair.
Recommended Usage:
The recommended usage of Horse Tail Extract powder in cosmetic products typically ranges from 5-10%.
Solubility:
It can be dissolved in water and glycerin and usually does not dissolve directly in the final product. Instead, it is used as an additive or ingredient in the product formulation to benefit from the pure benefits of Horse Tail Extract.
Applications:
Hair Care Products: Horse Tail Extract is used in shampoos, conditioners, and hair care products to enhance hair health and strengthen it.
Nail Care Products: Horse Tail Extract is used in creams and nail care products to strengthen and improve nail condition.
Skin Care Products: It is considered a natural ingredient that helps moisturize and soften the skin. It contributes to improving skin elasticity and reducing the appearance of wrinkles.
Storage:
Horse Tail Extract powder should be stored in a cool, dry place away from direct sunlight.
Country of Origin: China
Packaging Country: Saudi Arabia
Your Dynamic Snippet will be displayed here... This message is displayed because you did not provided both a filter and a template to use.

إنضم إلى ورشة العمل
انضم إلينا في ورشة العمل المميزة لتتعلّم كيفية صنع منتجات التجميل الخاصة بك واكتساب مهارات جديدة.

ستتلقى دعمًا من خبراءنا المتخصصين الذين سيوجهونك خلال عملية تصنيع المنتجات. و ستتعلم أفضل الطرق والخطوات لإنتاج منتجات تجميل تعزز العناية بالبشرة وتمنحك الانتعاش والحيوية

لا تدع هذه الفرصة الرائعة تفوتك لاكتساب مهارة جديدة تحسن من روتين العناية ببشرتك

إشترك الآن واتخذ الخطوة الأولى نحو الحصول على بشرة أكثر صحة وإشراقًا