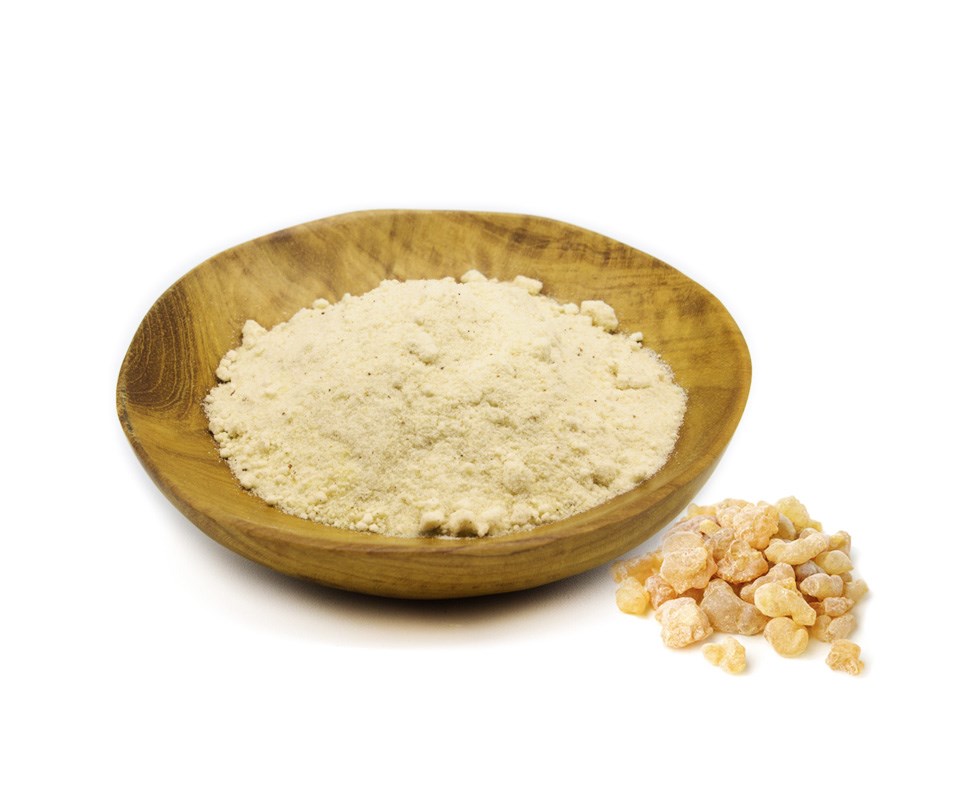 Frankincense Powder
Frankincense powder is a finely ground form of the resin obtained from Boswellia trees, known for its therapeutic and cosmetic benefits.
The displayed images are for illustrative purposes and may vary from the actual product
---
Internal Reference: LBN-0545
GTIN: 6285817004258

Description: 
Frankincense powder is derived from the resin of the Boswellia tree, specifically from the species Boswellia sacra and Boswellia carterii. This aromatic powder has been used for centuries in various cultures for its therapeutic and cosmetic properties. It is obtained by grinding the dried resin into a fine powder, which can then be incorporated into skincare and cosmetic products.
Benefits:
Antioxidant effects: The powder is rich in antioxidants that protect the skin against free radicals, helping to prevent premature aging and promoting a youthful complexion.

Skin rejuvenation: Frankincense powder promotes cell regeneration, aiding in the rejuvenation of dull or tired-looking skin. It may help improve skin tone, texture, and overall radiance.

Anti-aging properties: Regular use of frankincense powder can help reduce the appearance of fine lines, wrinkles, and age spots, promoting a more youthful appearance.
Usage: Frankincense powder can be used in various skincare and cosmetic formulations. It can be added to face masks, scrubs, creams, lotions, serums, and other skincare products to harness its beneficial properties. The powder can also be used in aromatherapy preparations, such as incense or essential oil blends.
Recommended Usage in Skincare Products:
Face masks: Add 1-2 teaspoons of frankincense powder to your favorite mask recipe.

Scrubs: Incorporate 1-2 teaspoons of frankincense powder into a scrub base, such as sugar or salt scrub.

Creams and lotions: Include frankincense powder at a concentration of 1-3% in your cream or lotion formulation.

Serums: Add a small amount (0.5-1%) of frankincense powder to your serum formulation.
Storage: To preserve the quality and potency of frankincense powder, it should be stored in a cool, dry place, away from direct sunlight and moisture. Ensure the container is tightly sealed after each use. When stored properly, the powder can maintain its effectiveness for an extended period.
Country of origin: Nigeria
Country of packing: Saudi Arabia
Your Dynamic Snippet will be displayed here... This message is displayed because you did not provided both a filter and a template to use.

إنضم إلى ورشة العمل
انضم إلينا في ورشة العمل المميزة لتتعلّم كيفية صنع منتجات التجميل الخاصة بك واكتساب مهارات جديدة.

ستتلقى دعمًا من خبراءنا المتخصصين الذين سيوجهونك خلال عملية تصنيع المنتجات. و ستتعلم أفضل الطرق والخطوات لإنتاج منتجات تجميل تعزز العناية بالبشرة وتمنحك الانتعاش والحيوية

لا تدع هذه الفرصة الرائعة تفوتك لاكتساب مهارة جديدة تحسن من روتين العناية ببشرتك

إشترك الآن واتخذ الخطوة الأولى نحو الحصول على بشرة أكثر صحة وإشراقًا