Plastic Lip Butter & Cream Pots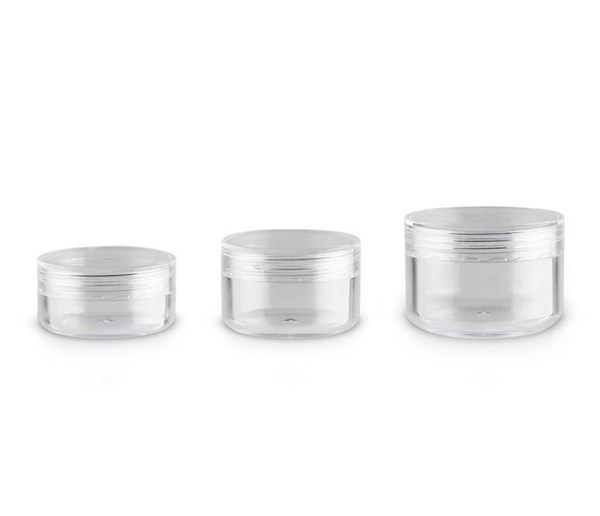 Plastic Lip Butter & Cream Pots
Our bottles and packing materials are the ideal choice to meet your packaging needs. These containers are characterized by elaborate design and high quality, which makes them ideal for packaging various cosmetic products. You will find that we have a wide range of sizes and shapes that meet your needs. Choosing our empty packaging means choosing quality, durability, and flexibility, while adhering to environmental standards to preserve the environment
The displayed images are for illustrative purposes and may vary from the actual product
---
GTIN: 6285817014752

Description:
Bottles used for creams, oils, balms, and various liquids are versatile containers designed to hold and store a wide range of beauty and skincare products. These empty bottles are typically made of glass or plastic and come in various sizes and shapes to accommodate different types of formulas.
Usage:
Bottles can be utilized in various ways, including:
Skincare and Beauty Products: You can create your own creams, lotions, oils, balms, serums, toners, and other skincare or beauty products. Fill the empty bottles with your custom formulations.
Sample or Gift Sizes: If you are sharing skincare or beauty products with others, empty bottles provide a practical solution. You can decant a portion of the product into smaller bottles for sampling or gifting purposes.
Storage and Organization: Bottles are useful for storing and organizing various liquids, such as essential oils, carrier oils, toners, or serums. By transferring these liquids into smaller bottles, you can keep your collection neat, easily accessible, and extend their shelf life by reducing exposure to air and light.
Refillable Packaging: Many bottles are designed to be refillable, allowing you to reduce waste and promote sustainability by reusing the containers. Simply clean and sterilize the empty bottles before refilling them with your preferred products.
Note:
When using bottles, ensure they are clean, dry, and properly sterilized before filling them with any product to maintain hygiene and prevent contamination.
Your Dynamic Snippet will be displayed here... This message is displayed because you did not provided both a filter and a template to use.

إنضم إلى ورشة العمل
انضم إلينا في ورشة العمل المميزة لتتعلّم كيفية صنع منتجات التجميل الخاصة بك واكتساب مهارات جديدة.

ستتلقى دعمًا من خبراءنا المتخصصين الذين سيوجهونك خلال عملية تصنيع المنتجات. و ستتعلم أفضل الطرق والخطوات لإنتاج منتجات تجميل تعزز العناية بالبشرة وتمنحك الانتعاش والحيوية

لا تدع هذه الفرصة الرائعة تفوتك لاكتساب مهارة جديدة تحسن من روتين العناية ببشرتك

إشترك الآن واتخذ الخطوة الأولى نحو الحصول على بشرة أكثر صحة وإشراقًا