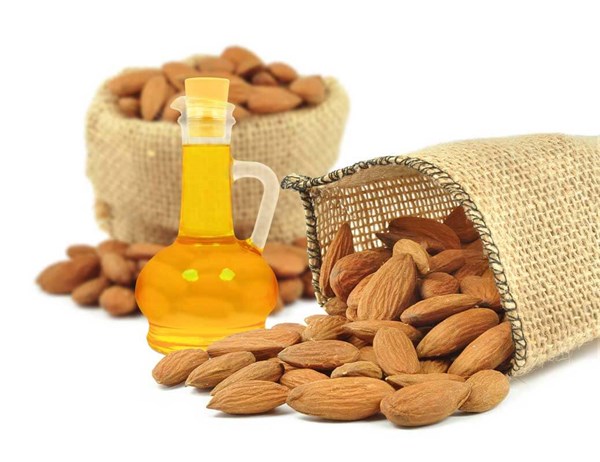 Raw Sweet Almond Oil
Raw Sweet Almond Oil is a nourishing oil derived from the kernels of sweet almonds. It is a versatile oil that is widely used in skincare, haircare, and culinary applications. The oil is known for its lightweight texture, mild aroma, and various beneficial properties.
The displayed images are for illustrative purposes and may vary from the actual product
---
GTIN: 6285817009222

Description: 
This natural oil is renowned for its ability to deeply moisturize and nourish the skin. It penetrates the skin easily, leaving it soft, supple, and smooth. Raw Sweet Almond Oil helps to restore and maintain the skin's natural moisture barrier, preventing dryness and dehydration.
With its rich vitamin E content and antioxidant properties, Raw Sweet Almond Oil provides protection against environmental damage and helps combat the signs of aging. It assists in reducing the appearance of fine lines, wrinkles, and age spots, promoting a more youthful and vibrant complexion.
Raw Sweet Almond Oil is also known for its soothing and calming properties. It can help alleviate skin irritations, redness, and inflammation, making it suitable for sensitive or reactive skin types. Regular use of this oil can help achieve a more balanced and calm complexion.
Benefits:
Moisturizes and nourishes the skin, helping to keep it soft, smooth, and hydrated

Rich in vitamins and antioxidants that protect the skin from environmental damage and signs of aging

Soothes and calms irritated or inflamed skin, reducing redness and promoting a healthy complexion

Helps improve skin tone and texture, minimizing the appearance of scars, stretch marks, and uneven pigmentation

Enhances the natural shine and vitality of the hair, promoting hair health and growth

Acts as a natural emollient, sealing in moisture and preventing moisture loss from the skin and hair

Suitable for most skin types, including sensitive skin

Can be used as a carrier oil to dilute essential oils for safe topical application
Usage:
 Raw Sweet Almond Oil can be used directly on the skin and hair or incorporated into various beauty applications.
Recommended Usage:
 The recommended usage of Raw Sweet Almond Oil may vary depending on the specific purpose. It can be used as a facial oil, body moisturizer, massage oil, or hair oil. It can also be blended with other oils, ingredients, or used as a carrier oil in skincare and haircare recipes.
Solubility: 
Raw Sweet Almond Oil is not water-soluble but can be easily mixed with other oils, essential oils, or used in oil-based formulations.
Applications:
Skincare: facial oil, body oil, moisturizer, massage oil

Haircare: hair oil, scalp treatment, conditioner

Nail and cuticle care: nail and cuticle oil

Makeup remover: gentle makeup remover

DIY recipes: as a carrier oil for creating personalized skincare and haircare products
Storage: 
To maintain the freshness and quality of Raw Sweet Almond Oil, it should be stored in a cool, dark place, away from direct sunlight and heat. Proper storage helps extend its shelf life and preserves its beneficial properties.
Soap Quality:
| | |
| --- | --- |
| Hardness | 7 |
| Cleansing | 0 |
| Condition (emollient content) | 89 |
| Bubbly | 0 |
| Creamy | 7 |
| Iodine | 99 |
| INS | 97 |
Fatty Acid Content:
| | |
| --- | --- |
| Lauric | 0 |
| Myristic | 0 |
| Palmitic | 7 |
| Stearic | 0 |
| Ricinoleic | 0 |
| Oleic | 71 |
| Linoleic | 18 |
| Linolenic | 0 |
HLB: 7

Extraction Method: Cold-press
Country of origin: United States of America
Country of Packing: Saudi Arabia
Your Dynamic Snippet will be displayed here... This message is displayed because you did not provided both a filter and a template to use.

إنضم إلى ورشة العمل
انضم إلينا في ورشة العمل المميزة لتتعلّم كيفية صنع منتجات التجميل الخاصة بك واكتساب مهارات جديدة.

ستتلقى دعمًا من خبراءنا المتخصصين الذين سيوجهونك خلال عملية تصنيع المنتجات. و ستتعلم أفضل الطرق والخطوات لإنتاج منتجات تجميل تعزز العناية بالبشرة وتمنحك الانتعاش والحيوية

لا تدع هذه الفرصة الرائعة تفوتك لاكتساب مهارة جديدة تحسن من روتين العناية ببشرتك

إشترك الآن واتخذ الخطوة الأولى نحو الحصول على بشرة أكثر صحة وإشراقًا