Freeze Dried Royal Jelly Powder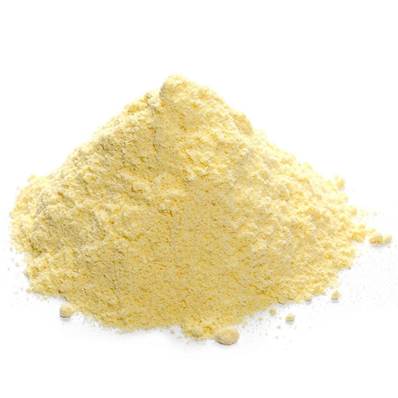 Freeze Dried Royal Jelly Powder
Dried royal jelly extract is an important and effective component in skin care products, as it promotes skin freshness and maintains its health.
The displayed images are for illustrative purposes and may vary from the actual product
---
Internal Reference: RJ-720231
GTIN: 6285817023761

Description:
Dried royal jelly extract is a rich composition of vitamins, minerals, and essential amino acids that nourish the skin and promote its health. The extract works to enhance the skin's health, moisturize it, and improve its elasticity, resulting in a youthful and healthy appearance, thanks to its antioxidant properties. It also helps combat signs of aging and wrinkles, contributing to improving skin elasticity and reducing the appearance of fine lines. It stimulates skin cell renewal and collagen production, helping achieve smooth and firm skin. Not only that, the dried royal jelly extract also has the ability to improve hair health.
Benefits:
Skin Renewal: It contains a wide range of nutritional compounds that promote skin renewal and stimulate collagen and elastin production, helping reduce the appearance of wrinkles and fine lines and improve skin elasticity.
Skin Nourishment: It contains a variety of essential vitamins and minerals that nourish and enhance skin health. The Vitamin C in dried royal jelly extract stimulates collagen production, while vitamin E moisturizes and repairs the skin.
Anti-Inflammatory Properties: Dried royal jelly extract contains anti-inflammatory compounds that help soothe and reduce redness and irritation in the skin. It is an excellent choice for individuals with acne.
Improvement of Skin Tone: Dried royal jelly extract can contribute to improving skin tone and giving it a healthy glow. It contains antioxidants that fight free radicals and improve the appearance of the skin.
Strengthening Hair and Nails: Dried royal jelly extract promotes hair and nail growth and improves their strength and flexibility. It contains proteins and essential amino acids that support hair and nail health.
Recommended Usage:
It is usually recommended to use a concentration ranging from 0.5% to 5% of dried royal jelly extract in cosmetic formulations.
Solubility: Dried royal jelly extract is easily soluble in water-based formulations. It can be easily dissolved in water, toners, and rose water.
Applications:
Face and Eye Creams: Royal jelly extract is used in face and eye creams for its antioxidant properties and skin moisturization. The extract can help reduce wrinkles and improve skin elasticity.
Face Toner: Royal jelly extract is added to face serums to enhance skin radiance and even out skin tone.
Face Mask: Royal jelly extract is used in face masks to moisturize and soothe the skin. Face masks containing this extract are popular choices for dry and damaged skin.
Other Cosmetic Products: Dried royal jelly extract can also be used in the production of other cosmetic products such as facial scrubs, mascaras, lipsticks, lip glosses, night creams, and more. It is used to improve the appearance, nourishment, and rejuvenation of the skin.
Storage: Royal jelly extract should be stored in a cool, dry place, away from direct sunlight and humidity. It is advisable to keep it in an airtight container to maintain its freshness and protect it from exposure to air. Proper storage conditions will help preserve its beneficial properties and extend its shelf life.
Country of Origin: China
Packaging Country: Saudi Arabia
Your Dynamic Snippet will be displayed here... This message is displayed because you did not provided both a filter and a template to use.

إنضم إلى ورشة العمل
انضم إلينا في ورشة العمل المميزة لتتعلّم كيفية صنع منتجات التجميل الخاصة بك واكتساب مهارات جديدة.

ستتلقى دعمًا من خبراءنا المتخصصين الذين سيوجهونك خلال عملية تصنيع المنتجات. و ستتعلم أفضل الطرق والخطوات لإنتاج منتجات تجميل تعزز العناية بالبشرة وتمنحك الانتعاش والحيوية

لا تدع هذه الفرصة الرائعة تفوتك لاكتساب مهارة جديدة تحسن من روتين العناية ببشرتك

إشترك الآن واتخذ الخطوة الأولى نحو الحصول على بشرة أكثر صحة وإشراقًا