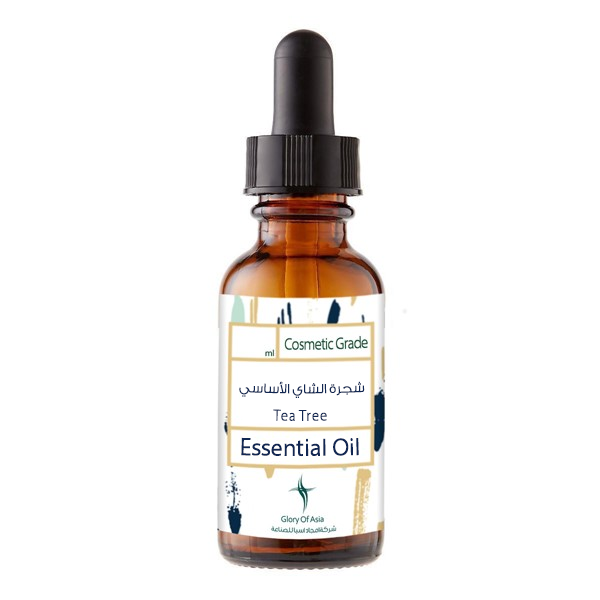 Tea Tree Essential Oil
Tea tree essential oil is a potent oil derived from the Melaleuca alternifolia tree. It offers a range of skincare benefits, thanks to its antimicrobial and anti-inflammatory properties.
The displayed images are for illustrative purposes and may vary from the actual product
---
GTIN: 6285817022009

Description: 
Tea tree essential oil, derived from the leaves of the Melaleuca alternifolia tree native to Australia, is a versatile and potent oil widely used in skincare. It has a distinct medicinal aroma and is known for its numerous beneficial properties. Tea tree oil is extracted through steam distillation, resulting in a clear to pale yellow liquid. Its antimicrobial and anti-inflammatory properties make it a popular choice for various skincare applications, promoting clear and healthy-looking skin.
Benefits:
Antibacterial and antimicrobial: Tea tree oil helps fight bacteria, making it effective for treating acne and blemishes.
Anti-inflammatory: It reduces redness, swelling, and inflammation, soothing various skin irritations.
Clears and purifies: Tea tree oil helps unclog pores and control excess oil, promoting clearer skin.
Balances oily skin: Tea tree oil regulates sebum production, making it beneficial for oily and combination skin types.
Usage: Tea tree essential oil can be used in various skincare products, including cleansers, toners, serums, spot treatments, and masks. It can also be used in diluted form for direct application on specific areas of concern.
Recommended Usage in Skincare Products:
Facial cleansers and toners: 0.5% - 2%
Facial serums: 1% - 5%
Face masks and scrubs: 0.5% - 2%
Body washes and lotions: 0.5% - 2%
Recommended Usage in Candles:
For soy or beeswax candles: Use 5-7%
For paraffin candles: Use 3-5%
Note:
It is important to carefully measure and test the scent strength when adding essential oils to candles to achieve the desired fragrance without overwhelming the candle.
Solubility: Tea tree essential oil is soluble in oil and alcohol-based formulations but is not soluble in water alone. It should be properly diluted before adding to water-based products.
Applications:
Facial cleansers and toners
Facial serums and spot treatments
Face masks and scrubs
Body washes
Storage: To preserve the quality and potency of tea tree essential oil, store it in a cool, dark place, away from direct sunlight and heat. Ensure the bottle is tightly sealed to prevent oxidation.
Extraction Method: Steam distillation
Country of origin: India
Country of packing: Saudi Arabia
Your Dynamic Snippet will be displayed here... This message is displayed because you did not provided both a filter and a template to use.

إنضم إلى ورشة العمل
انضم إلينا في ورشة العمل المميزة لتتعلّم كيفية صنع منتجات التجميل الخاصة بك واكتساب مهارات جديدة.

ستتلقى دعمًا من خبراءنا المتخصصين الذين سيوجهونك خلال عملية تصنيع المنتجات. و ستتعلم أفضل الطرق والخطوات لإنتاج منتجات تجميل تعزز العناية بالبشرة وتمنحك الانتعاش والحيوية

لا تدع هذه الفرصة الرائعة تفوتك لاكتساب مهارة جديدة تحسن من روتين العناية ببشرتك

إشترك الآن واتخذ الخطوة الأولى نحو الحصول على بشرة أكثر صحة وإشراقًا