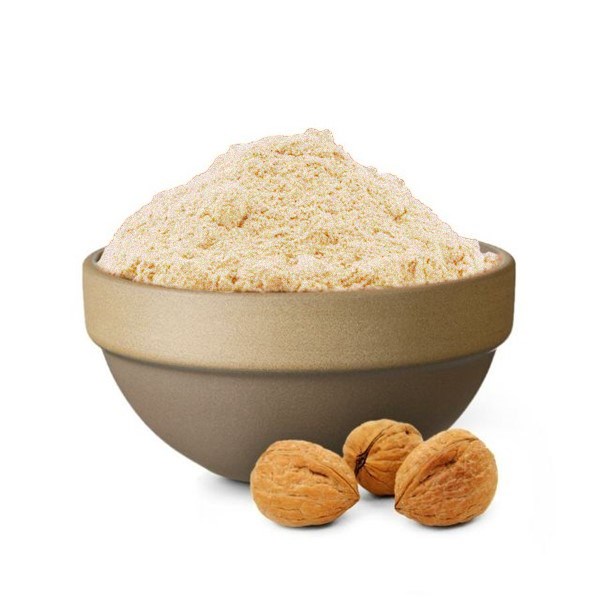 Walnut Shell Powder
Walnut shell powder is a natural exfoliant derived from crushed walnut shells, providing gentle yet effective exfoliation for smoother and brighter skin.
The displayed images are for illustrative purposes and may vary from the actual product
---
Internal Reference: WSH-4331
GTIN: 6285817011416

Long Description:
Walnut shell powder is a natural exfoliant derived from crushed walnut shells. It is a popular ingredient in skincare due to its gentle yet effective exfoliating properties. The powder is created by finely grinding the shells, resulting in a granular texture that helps remove dead skin cells and impurities, revealing a smoother and brighter complexion. Walnut shell powder is a versatile addition to skincare routines, offering both physical exfoliation and various benefits for the skin.
Benefits:
Gentle exfoliation: Walnut shell powder helps remove dead skin cells and unclog pores, promoting a smoother and more radiant complexion.

Reveals brighter skin: By sloughing off dull and flaky skin, walnut shell powder reveals a fresher and more vibrant skin tone.

Improves skin texture: Regular use of walnut shell powder can help improve the texture of the skin, making it feel smoother and softer.

Unclogs pores: The granular nature of walnut shell powder assists in clearing out impurities and excess sebum from the pores, reducing the occurrence of blackheads and blemishes.
Usage: Walnut shell powder can be used as an exfoliating scrub or incorporated into various skincare formulations to enhance their exfoliating properties.
Recommended Usage in Skincare Products:
Exfoliating scrub: Mix walnut shell powder with a suitable carrier or cleansing agent, and gently massage onto damp skin in circular motions. Rinse thoroughly.

DIY formulations: Add walnut shell powder at a recommended usage level of 1-5% to creams, lotions, or masks for exfoliating benefits.
Solubility: Walnut shell powder is insoluble in water and oil. It is intended for use as a physical exfoliant and should not be dissolved.
Applications:
Exfoliating scrubs

Creams

Lotions

Masks
Storage: To maintain the quality and freshness of walnut shell powder, store it in a cool, dry place in a sealed container. Protect it from moisture and direct sunlight. Proper storage can help extend its shelf life.
Country of Packing:
Saudi Arabia
Your Dynamic Snippet will be displayed here... This message is displayed because you did not provided both a filter and a template to use.

إنضم إلى ورشة العمل
انضم إلينا في ورشة العمل المميزة لتتعلّم كيفية صنع منتجات التجميل الخاصة بك واكتساب مهارات جديدة.

ستتلقى دعمًا من خبراءنا المتخصصين الذين سيوجهونك خلال عملية تصنيع المنتجات. و ستتعلم أفضل الطرق والخطوات لإنتاج منتجات تجميل تعزز العناية بالبشرة وتمنحك الانتعاش والحيوية

لا تدع هذه الفرصة الرائعة تفوتك لاكتساب مهارة جديدة تحسن من روتين العناية ببشرتك

إشترك الآن واتخذ الخطوة الأولى نحو الحصول على بشرة أكثر صحة وإشراقًا